Charging & Infrastructure
Lucid introduces new vehicle-to-vehicle charging technology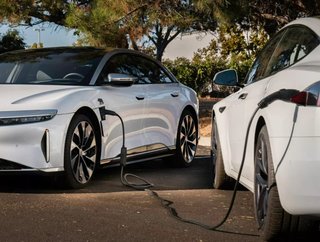 RangeXchange. Credit | Lucid Motors
RangeXchange, our new charging technology, is a small step to further enhance the everyday usability of EVs, says Peter Rawlinson, Lucid CEO & CTO
Lucid Motors has been creating sustainable, luxury vehicles since its inception in 2007.

As winner of the 2023 World Luxury Car Award, and recognised by EV Magazine as a top 10 supercar, The Lucid Air sets new standards for luxury electric experience — and is now looking to revolutionise electric vehicle charging.

"I'm delighted that Lucid continues to innovate, enabled by our integrated fusion of software and hardware," said Peter Rawlinson, CEO and CTO of Lucid.

Rawlinson has been at Lucid for over a decade, joining in 2013 as Chief Technology Officer before taking over as CEO as well in 2019. Previously, he spent three years at Tesla as Vice President and Chief Engineer for Model S, and spent time in engineering at Lotus and Corus Automotive.
"RangeXchange, our new charging technology, is a small step to further enhance the everyday usability of the electric vehicle."
Vehicle-to-vehicle charging opens up new opportunities in EV charging
RangeXchange is an innovative new vehicle-to-vehicle (V2V) adapter that enables Lucid Air owners to directly charge other electric vehicles. This new capability is enabled by Lucid's bi-directional charging technology and proprietary software — all of which is already built into every Lucid Air.

To enable RangeXchange, Lucid owners simply attach the new Lucid RangeXchange charging adapter to the charging cable and plug directly into the receiving car, adding between 24 to 40 miles of range per hour.

"RangeXchange is yet another example of the tremendous value we can provide with an over-the-air software update long after a customer purchases our car," said Mike Bell, Senior Vice President of Digital at Lucid.

Bell joined the company in 2021, having previously been Chief Technology Officer at Rivian, CEO at Silver Spring Network (now part of Itron), Vice President at Intel and been Vice President at Apple for over 15 years.

"This system's approach to the integration of hardware and software is what allows us to provide these value-add updates and is what sets Lucid apart in the auto industry."
*********************************************
EV Magazine is dedicated to creating a global community of businesses, experts, and EV enthusiasts with comprehensive insights into automotive and the surrounding sectors.
For more EV insights check out the latest edition of EV Magazine and be sure to follow us on LinkedIn & Twitter.
You may also be interested in Sustainability Magazine and Energy Digital Magazine.
*********************************************
Net Zero LIVE will be hosted live from the QEII Centre, London on the 6th and 7th of March, and streamed globally via our virtual event platform Brella. Net Zero LIVE London will feature four LIVE themes, incorporating Sustainability LIVE, EV LIVE, Scope 3 LIVE, and Energy LIVE to deliver a holistic conference and exhibition experience with opportunities to connect with like-minded peers and actively contribute to crafting a sustainable future. Following Net Zero LIVE, viewers can also sign up for Sustainability LIVE Dubai and Singapore.
Sign up to the The Global Sustainability & ESG Awards 2024, coming to London on the 11th September 2024.
*********************************************
BizClik is a global provider of B2B digital media platforms that cover Executive Communities for CEOs, CFOs, CMOs, Sustainability Leaders, Procurement & Supply Chain Leaders, Technology & AI Leaders, Cyber Leaders, FinTech & InsurTech Leaders as well as covering industries such as Manufacturing, Mining, Energy, EV, Construction, Healthcare + Food & Drink.
BizClik – based in London, Dubai, and New York – offers services such as Content Creation, Advertising & Sponsorship Solutions, Webinars & Events.