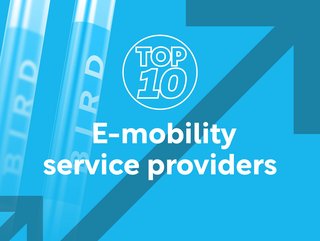 Top 10 e-mobility service providers
E-mobility is a global concern, but this varied list of 10 service providers shows the breadth of electrification as a sustainability initiative
Mobility is a very broad term, but the elements of it are the same – electrified solutions, smarter transport, and accessibility.
The Top 10 e-mobility service providers vary greatly, but carry this same drive to create a sustainable mobility network with electric power at the heart of it. From charging infrastructure and information sharing to shared micro-mobility, these businesses are all integral to the smart cities of the future and clean transportation, globally.
10: Ola Electric
Taking the two-wheeled EV market to a completely new level, Ola Electric is responsible for electrifying the moped market as a solution to damage caused by city congestion.
The Indian two-wheeler manufacturer was founded in 2017 by Bhavish Aggarwal, and is based in Bengaluru, Karnataka. The company's impact comes from providing cost-competitive, well-performing mobility solutions for the masses – particularly in India, where mobility is a critical factor in sustainable growth.
9: Citymapper
Citymapper was founded in 2011 by Azmat Yusuf and Oriol Vila. As a public transit and mapping service app, Citymapper serves a global population with uses on over 30 international cities, including London, New York, Paris, Berlin, and Tokyo.
In 2021, the company raised US$250m in Series D funding – increasing the overall value of the business to US$1.1bn – which will be leveraged to develop its user-friendly app, incorporating more cities and new features like traffic updates and ride-hailing.
8: Spin
The dockless e-bike and e-scooter sharing business was founded as a startup in 2017 and later acquired twice in its first five years. The company was first nestled in the Ford portfolio before TIER Mobility's takeover in 2022.
Operating in 70 cities and campuses across the US, Canada, Australia, and Europe, Spin is a sustainable initiative that enables commuters to move around cleanly and efficiently at a lower cost. By subscribing to Spin, customers can gain an unlimited number of rides each month, which provides significant ease of sustainability.
7: Zipcar
Car sharing is the way to go for more and more commuters, which is why Zipcar's solution hits the demand at an inflection point. Founded in 1999, the company's services provide for more than 10 million members across 500 cities and towns, spanning Europe, Canada, and the states.
The Zipcar service allows more commuters to save money while also selecting a transport solution that equates to less overall emissions, and makes travel more affordable for its users.
6: ChargePoint
A crucial service to many businesses and consumers, ChargePoint has installed more than 18,000 chargers across the United States and other countries, leading to more than 100,000 charging ports. It's the largest and most open EV charging network globally, paving the way for more sustainable transportation by supporting the development of necessary infrastructure and charging capabilities. The company is also working with EV hardware makers and charge point manufacturers to optimise their solutions.
5: Lyft
From bikes to cars, Lyft is the US-based mobility service that provides all the solutions to let its customers decide whether they want to talk transportation into their own hands or share it with others. In the Fiscal year of 2022, Lyft's revenue rose to US$4.1bn, which is a 28% year-on-year increase.
First founded as a ride-hailing business, the company has now ventured in the dockable e-bike and e-scooter race, as well as providing rental car solutions and food delivery across the US and some cities in Canada.
4: DiDi Global
As one of the world's leading mobility technology platform providers, DiDi Global offers a multitude of app-based services to support electrification across APAC, Latin America, Europe, and Africa. In 2022, its ride-hailing service, DiDi Chuxing, was valued at 141 billion yuan (over US$20bn).
As part of its service, the company also provides taxis, chauffeurs, and other forms of shared mobility solutions, as well as food delivery and freight.
3: Bird
Rethinking urban mobility, Bird is now available across parts of the US, Europe, and The Middle East. The company provides e-bikes and e-scooters in a multitude of services to cities and university campuses where transport is easier and cheaper via personal, micro-mobility methods.
The team is also committed to growth through supporting cities to adopt electrified solutions, enhancing mobility in a sustainable way.
2: Lime
Lime operates e-scooters across 150 cities in more than 30 countries. Providing convenience and affordable transport to the masses, it's yet another electrified solution for commuters to use on the fly – carbon free.
Whether exploring a new city or just travelling to and from work, Lime e-scooters have proven successful in areas where there is limited demand from consumers to own their own. The business was also the first of its kind to become profitable, which it achieved in February 2023, having experienced a year-on-year growth of 33% to exceed US$450m.
In doing so, the company's e-scooters were used for 120 million trips in 2022, equating to around four rides every second.
1: Uber
Uber is a ride-hailing company that is committed to sustainability. It has a goal of becoming a zero-emissions platform by 2040. To achieve this goal, Uber is investing in electrification, which is evident in its commitment to net-zero emissions, and will begin by switching its current London-based fleet of 45,000 cars to all-electric vehicle models.
By educating drivers and customers on the benefits of ZEVs and the roadmap towards sustainability, Uber hopes to bring all on board with its electrified vehicle strategy.