MotoE parades electric motorcycle performance capabilities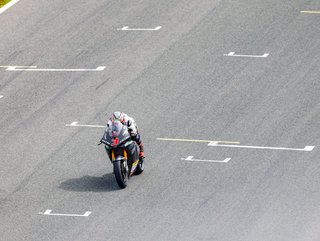 The Ducati electric motorcycling racing over the grid on the MotoE track.
Motorcycle racing is not for the faint-hearted, but electrification need not be a scary prospect. MotoE combines them, maintaining the essence of MotoGP
How do you know when you've really put a machine through its paces? Is it by its willingness to reach the finish line or the battle it goes through to get there—racing to the end at full power?

This is really what MotoGP is all about: testing the limits of motorcycles and their riders in gruelling races, from full-throttle to high-speed endurance. The caveat is the fuel type.

Unfortunately for motorsport fans, the current era of transition means that some of the things they love about motorcycle racing are set to change. While MotoGP is working to eliminate carbon from the motorsport, MotoE represents an era of electrified, two-wheel performance.

The electrified motorsport has expanded over time with a new race added to its calendar each year since its launch in 2018. What's even more exciting is that MotoGP spectators get to witness the 15-minute power surge of a race alongside the traditional sporting scenes, allowing them to see first hand how electrification performs on the track.
The organisers of MotoE, Dorna Sports set out to incorporate electric motorcycles over four years ago and the organisation's current MotoE Executive Director, Nicolas Goubert, played an instrumental role in the Fédération Internationale de Motocyclisme (FIM) bringing all-electric racing to the championships.
"MotoE being part of MotoGP is as if Formula E was part of Formula One," says Goubert. "We started only four years ago, but we are a growing discipline, just a lot smaller."
Partnering with the 'Ferrari' of the Motorcycle world: Ducati
The motorsport uses 100% electric bikes, charged on the track via battery-storage solutions to allow on-demand power to the racing teams. These charging systems have been used to power and support the racing of electric motorcycles built by Energica, but in 2023, MotoE is adopting a brand new bike.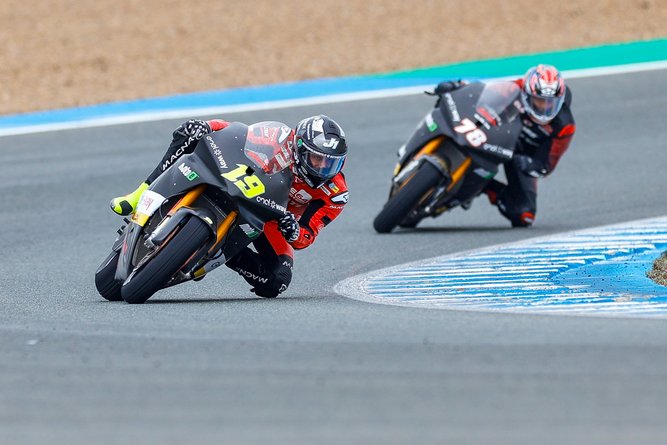 MotoE is the electrified racing league of MotoGP
Built by Ducati, the V21L is a testament to electrified performance, which leverages the 100% torque of battery-powered propulsion and is lighter in weight in comparison to MotoE's previous weapon of choice.
"From this season, we'll be using Ducati, which is to the motorcycle world what Ferrari is to the four-wheeled world," says Gouberg.
"The brand has been there for many years and is very famous in racing. It has always been involved with petrol-engine bikes.
"For Ducati, the clear objective is to develop their know-how to put electric bikes on the market in the short term. Short term meaning they don't exactly know whether it will be four, five, even six years."
Taking sustainable motorcycle racing global
Sustainable motorsports are gaining traction among sustainability-conscious spectators, but MotoE is not like other motorsports. Dorna Sports aims for electric motorcycle racing to focus more on the racing spectacle and formatting the race around the machine.
What this means for the fans is a 15-minute burst of excitement from fully charged electric motorcycles, which has been strategically organised to allow riders to fight to the very end. This retains the true essence of motorcycle daredevilry while showcasing Dorna Sports' sustainable partnerships, including that of Enel X—the provider of sustainable mobile power solutions to charge the bikes.
"They're very much involved in electric mobility, so they have chargers in many places," says Goubert. "Enel X developed specific chargers for us so we don't have any problems connecting them to the track network.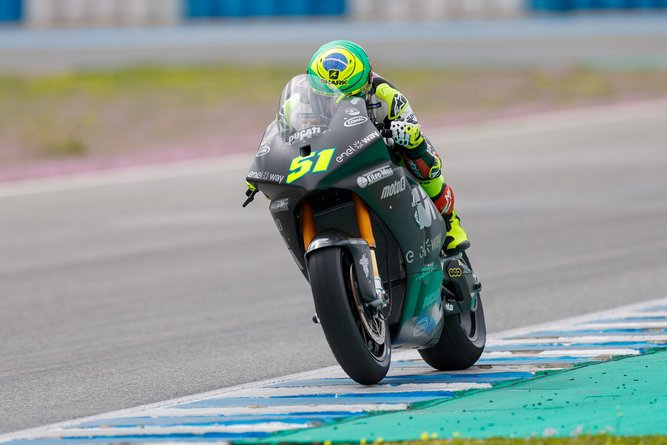 Nicolas Goubert, Executive Director at MotoE explains the nuances of electric motorcycle racing.
"Imagine you arrive with 20 bikes at the same time and you want to charge them fast. You need more power than what's available on any track in the world."
Enel X recognised the high energy demand of electric motorsport and devised a solution that would allow all bikes to be charged anywhere in the world.
Leveraging its pioneering 'JuicePump', Enel X devised a solution for racing that pulls energy from the grid to charge batteries, which is stored for charging the motorcycles.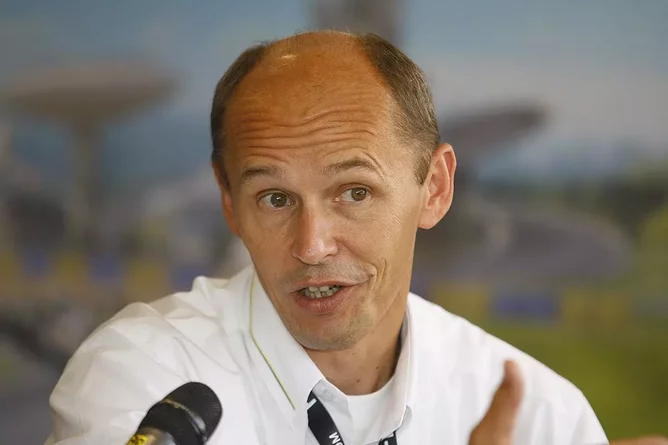 Nicolas Goubert, Executive Director at MotoE
Much like its four-wheeled sister championships, MotoE is reinventing the way electrical technology and infrastructure is used to advance solutions for two-wheeled EVs. Not only does this play into the hands of its partners—planning and developing applicable products for the commercial market—but also adheres to the FIM's sustainable trajectory for motorcycle racing.
But MotoE's approach represents innovation from a more traditional application. As an example, Formula E showcases the reinvention of automotive, incorporating charging metrics to sustain the race and allow drivers to reach the finish line. On the other hand, MotoE is adopting solutions to provide the same racing experience with minimal disruption from electrified solutions.