Baidu innovative technology and AI make EV autonomy possible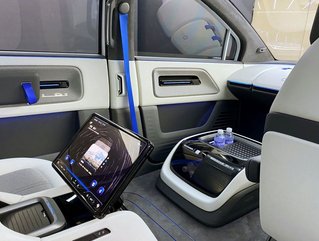 Baidu, the artificial intelligence (AI) company, offers solutions to enable electric vehicle (EV) innovation and technology for autonomous driving
Founded in 2000, Baidu originally operated as a search engine platform and then became an early adopter of artificial intelligence (AI) in 2010 with the goal of making content discovery on the internet easier.
Since its adoption of AI, Baidu created Baidu Brain, its core AI technology engine, to develop new AI businesses. Now, the company is one of the few companies in the world that offers a full AI stack. This stack encompasses:
Infrastructure that consists of AI chips,
Deep learning framework,
Natural language processing,
Knowledge graph,
Speech recognition,
Computer vision,
Augmented reality,
An open AI platform to facilitate wide application and use.
Baidu has been able to build a diversified portfolio of products and services with large total market opportunities over the past two decades. Its portfolio is used by over one billion devices monthly, and its business spans across an ecosystem of hundreds of millions of users, millions of developers and hundreds of thousands of enterprises.
Baidu's work with AI technology
The Baidu Brain platform has over 270 AI capabilities, is used internally as well as being open to third-party developers and has been involved in 310,000 developer models.
The platform takes a layered approach to AI, with a foundation layer supported by additional layers of algorithms supporting features such as VR, voice technology and computer vision, as well as a security layer.
Baidu Core, one segment of the company, provides mainly online marketing services and non-marketing value-added services, as well as products and services from new AI initiatives, which together power the company with three growth engines: mobile ecosystem; AI cloud and; intelligent driving and other growth initiatives.
Looking at the intelligent driving growth engine, Baidu has been developing autonomous vehicle technology with its Apollo platform. Just two years ago, the company showcased its AI driving system which then was capable of driving without a safety driver inside the vehicle, making wider deployment a possibility.
As of 2020, the Apollo platform completed over six million kilometres of on-road testing, experiencing zero accidents while carrying over 100,000 passengers across 27 cities. This platform also makes use of 5G communications technology to enable remote driving - replacing the safety driver typically ready to assume control of autonomous vehicles in cases of emergency.
Baidu's next-generation autonomous vehicle
Recently, the company unveiled its next-generation fully autonomous vehicle, Apollo RT6, an all-electric, production-ready model with a detachable steering wheel. This vehicle is designed for complex urban environments and will be put into operation in China in 2023 on Apollo Go, Baidu's autonomous ride-hailing service.
One key feature of the new vehicle is its cost. With a per unit cost of US$37,000, the arrival of Apollo RT6 is set to accelerate autonomous vehicle deployment at scale and could bring the world closer to a future of driverless shared mobility.
"This massive cost reduction will enable us to deploy tens of thousands of AVs across China. We are moving towards a future where taking a robotaxi will be half the cost of taking a taxi today," said Robin Li, Co-founder and CEO of Baidu, at Baidu World 2022, the company's flagship technology conference.
Speaking at Baidu World 2022, Zhenyu Li, senior corporate vice president of Baidu and general manager of Intelligent Driving Group, said the autonomous driving capability of Apollo RT6 is equivalent to a skilled driver with 20 years of experience.