New Automotive shares data on current electric vehicle sales
EVs are growing in popularity, but the percentage of sales must increase rapidly to ensure, globally, electrification can be achieved by climate deadlines
The automotive market is experiencing a major shift in demand as consumers look to switch their vehicles to hybrid-electric and all-electric models.

Particularly in the UK, electric car sales increased by 6% in January 2023—in comparison to January 2022, while the sales of diesel-powered vehicles fell by almost 2,000 in the same month.

The data was provided by New Automotive in its Electric Car Count (ECC), which is the most comprehensive study of the EV sector in the country and represents how, despite a lot of negativity around EVs, more and more individuals are coming around to the idea.

"Following a month of negative headlines for the UK's transition to electric cars, we were pleasantly surprised to see sales of electric cars continue to grow. The data show that UK motorists are perfectly happy to embrace cleaner, cheaper, better transport," says Ben Nelmes, Chief Executive of New Automotive.

The interactive dashboard used by New Automotive shares exclusive data that segments EV sales by fuel type and brand, providing a holistic view of the past month's evolution. According to Nelmes, there is a bright future for the country despite uncertainty of jobs and battery manufacturing, following the news of Britishvolt's collapse—a major project brought to a halt.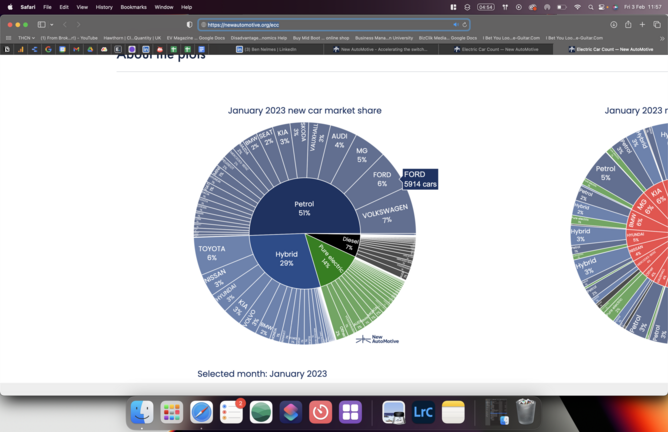 "This month's collapse of Britishvolt is regrettable, but there is a bright future for British battery manufacturing. Ministers have a role to play, and must make sure the UK is as attractive as possible to site battery manufacturing. The UK needs a green industrial strategy if we are to attract the jobs, investment and growth that the global transition to electric vehicles offers," says Nelmes.
"A good first step would be to end the delay to the long-overdue ZEV Mandate. This scheme is vital to attracting investment and creating clean, green and future-proofed British jobs."
The full breakdown of the Electric Car Count can be viewed here.
Businesses are driving electrification efforts
Despite the interest of consumers, the onus is on the businesses with the Electric Car Count to support electrification globally. It's clear from the UK's figures that petrol cars still dominate the market, while diesel is being pushed out of the rankings, which could potentially see diesel cars eradicated all together in years to come.
It seems that urban and rural public transport could play an important role in shifting consumers away from diesel cars as the majority of new sales surround London, East Anglia and other hard-to-reach areas. The announcement of progress in developing the HS2 train line from London to Glasgow shows promise of efficient transport links between all major cities, potentially facilitating a final push against diesel cars.