E-mobility requires more electrification infrastructure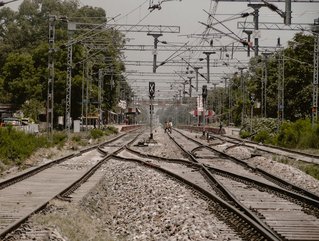 Electrification is the current task that many public and private organisations are facing, but France is among those on track to electrify rail networks
Electric vehicles are no good to the environment on their own. There's a significant amount of work to take place as more countries join the global electrification agenda. The European and Asian rail networks are working on this as they aim for net-zero emissions.

Infrastructure is a major contributing factor to this as the industry requires more developed solutions for a fully-electric rail network. As of November 2021, rail accounted for around 8% of global passenger travel and 9% of freight transport, but had a significantly small percentage of global energy consumption.
Electrifying the rail network requires global commitment
The rail network in Europe is in full decarbonisation mode with the installation and operation of electric trains across the continent. It was announced by Ile-de-France Mobilités that the French rail network is set for 100% electrification by 2030 and requires a further 60 kilometres of catenaries, more than 1,500 supports and various power stations to reach the goal.

But, infrastructure goes beyond technology as there are also many construction aspects to the project. Railway platforms, bridges and tunnels will also need to be adapted to be retrofitted with electrical systems.

Germany is behind on its electrification process with 61% completion, putting the country behind many of those that surround it. Further data from Statista shows that many of the smaller countries are achieving this at a much faster rate. Since 2019, Switzerland has hosted a 100% electric train network, Luxembourg reached 91% in the same year and Montenegro—with a similar population to Luxembourg—achieved 90% electrification. The average percentage of rail networks to be all-electric across the EU-27 is around 56% or more.
Asian rail networks accompany EVs
China is leading the way in high-speed rail. The country is responsible for the first launch of a fully-electrified bullet train in Tibet alongside the completion of a hybrid hydrogen-fuel cell train.

Recorded in 2020, China's high-speed rail spanned 36,000km, but is expected to increase to 70,000km by 2035 and much of this development will involve electric transport solutions. The continued development of public transport solutions in China is the country's method of facilitating the switch to electric.

Meanwhile, India's target is set for a full electric rail network by 2023 as a major stepping stone to net-zero emissions by 2030. Despite the coronavirus pandemic, the country has made significant progress with this and has already installed electrical infrastructure and trains across more than 45,881km of its railways.