DHL's electric aviation partner takes off on first flight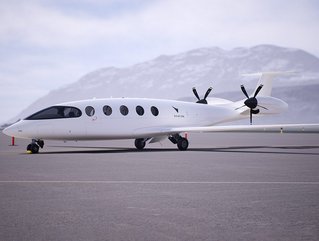 Eviation Aircraft is set to supply electric planes to DHL and the maiden flight of its 'Alice' spreads optimism for EV application in logistics businesses
Here is some progress on a previous story covered by EV Magazine and Sustainability Magazine previously. To give this some context, in 2021 DHL placed an order with the aviation firm, Eviation Aircraft, for a small fleet of electric planes.

While still under development, DHL was, and still is, adamant that electric aviation will play an integral role in its ability to meet the needs of its customers in a sustainable way, hence the order of 12 e-cargo aircraft to be delivered by Eviation in 2024.

As if the company wasn't already confident enough that Eviation would deliver a suitable aircraft to take on some of its cargo routes, the Alice has officially undergone its maiden flight.

Revolutionising electrification through aviation
The announcement was made on the 27th September 2022 that the all-electric plane successfully completed its first flight, taking off at 7:10am from the Grant County International Airport (MWH) and flying for eight minutes at an altitude of 3,500 feet.
"Today we embark on the next era of aviation—we have successfully electrified the skies with the unforgettable first flight of Alice," said Eviation's President and CEO, Gregory Davis.
"People now know what affordable, clean and sustainable aviation looks and sounds like for the first time in a fixed-wing all-electric aircraft. This groundbreaking milestone will lead innovation in sustainable air travel, and shape both passenger and cargo travel in the future."
The aviation firm has already received orders for the aircraft, including the 12 aircraft to be supplied to DHL Express.
"Our compliments to Eviation on the successful first flight of Alice!" says John Pearson, CEO DHL Express. "Completing its maiden flight confirms our belief that the era of sustainable aviation is here. With our order of 12 Alice e-cargo planes, we are investing towards our overall goal of net-zero emissions logistics."
"Alice's range and capacity makes it a unique sustainable solution for our global network, supporting our aspiration to make a substantial contribution in reducing our carbon footprint and ultimately, achieving net-zero emissions by 205."
The other orders came from two US-based regional airlines, including Cape Air, which placed an ordered 75, and Global Crossing Airlines with 50.
The Founder and Board chairman at Cape Air, Dan Wolf said: "The first flight of Alice represents a transformational milestone for the aviation industry. We currently fly more than 400 regional flights per day, connecting more than 30 cities across the United States and Caribbean. Alice can easily cover 80% of our flight operations, bringing sustainable, emissions-free travel to the communities we serve."
Following the successful flight, more work is to be done to ensure that Alice is safe for use and meets the strict criteria for regulations and aviation clients. Its current operating speed maxes out at 260 knots and the load capacity is just over 1.13 tonnes and the eCargo version can hold almost 1.18 tonnes.
The final aircraft will come in three variations: a nine-passenger variant for commuting, an executive six-passenger model, and an eCargo model—these variants also support two crew members to manage each flight.