Volta Trucks taps former Salesforce and VW tech exec Hoffman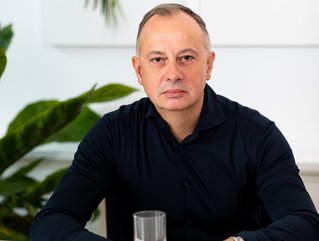 Martin Hoffman is joining Volta Trucks
Martin Hoffman, former SVP at Salesforce and Group CIO Volkswagen Group, joins Volta Trucks as Chief Technology and Information Officer
Volta Trucks, manufacturers of Volta Zero, the world's first purpose-built all-electric 16-tonne vehicle designed for urban logistics, has appointed Martin Hoffman as its new Chief Technology and Information Officer.
Hoffman joins from Salesforce where he held the position of Senior Vice President, but made his name in the automotive industry at the Volkswagen Group as Group Chief Information Officer – pioneering digital transformation into the cloud.
He will report to Chief Executive Officer, Essa Al-Saleh, and his responsibilities will include providing strategic leadership when it comes to digital services and IT operations.
"I am delighted to welcome Martin to the Executive Management Team of Volta Trucks at this pivotal time in the development of the company," says Al-Saleh.
"Building a new all-electric truck from the ground up gives us a unique opportunity to create a digital ecosystem around the vehicle, built specifically for our customer's needs, much like Apple did with the launch of the original iPhone.
"Martin's extensive industry knowledge and experience with digital transformations will be invaluable for Volta Trucks to support our vision for an industry-leading digital customer experience."
Hoffman passionate about automotive and advanced information technology
The arrival of Hoffman is quite a coup for Volta Trucks, as it looks to build on the warm reception for its Volta Zero vehicle and Truck as a Service proposition. Truck as a Service offers fleet managers a way to electrify their fleet and reduce their carbon footprint.
"I am excited to join the Volta Trucks team that has accomplished so much in such a short time – making mobility in our cities safer and tailpipe emission-free," says Hoffman.
"Being passionate about automotive and advanced information technology, I am thrilled to drive the creation of Volta Trucks' Digital Platform – a benchmark in customer experiences, software-defined vehicle services and efficient ecosystem processes."
Hoffman is due to take up his new role on 1 May.
Volta Trucks was founded in 2019 in Sweden by co-founders Carl-Magnus Norden and Kjell Waloen. Volta Trucks has raised over €360 million in funding to date. The company's contract manufacturing facility in Austria is due to start production in Q2 this year.