Xpeng Motors is navigating the automotive electric evolution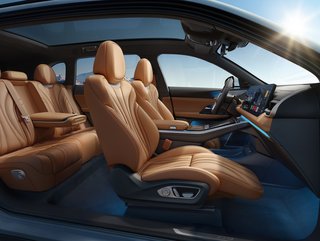 Credit: Xpeng | Smart interior for a sophisticated digital Xmart cockpit
The EV startup Xpeng (Xiaopeng)  Motors promotes Dr Liyun Li as it takes on the automotive sector's electrified, autonomous vehicle transformation
Startups experience an entirely new entry route into the automotive market and navigate shifts in barriers to entry. China is particularly active in this new era of automobiles as it delivers a number of new organisations with the potential to stick in the world of electric vehicles (EVs).

Xpeng Motors—less commonly referred to by its full name Xiaopeng Motors—is one of these businesses cementing its place in the digital vehicle landscape. With support from one of the industry's leading original equipment manufacturers (OEMs) Volkswagen Group, Xpeng will likely become a mainstream provider in China as it looks to deliver vehicles through its partnership with the German car maker.

The company was founded in 2014 and has since gained traction in the EV sector as it looks to incorporate more digital capabilities into automotive and deliver autonomous-electric vehicles (A-EVs). As a rapid innovator, to keep up with the exponential evolution of the automotive sector, Dr Liyun Li joined the company on the 2nd August 2023 as its Vice President of Autonomous Driving, who will take on responsibilities from Dr Xinzhou Wu.

The company's CEO and Chairman, He Xiaopeng says:

"Looking forward, we will remain fully committed to our clear roadmap for the full-stack in-house developed autonomous driving technology and our strategic partnership with the Volkswagen Group. I will continue to personally lead our autonomous driving team and strengthen our leadership in Smart EV technologies."
Smart EVs are the future and Xpeng is part of it
There's more to this automotive brand than simply providing more EVs to the market. Smart technology is the epitome of its intelligent approach to electric car making and will soon drive them thanks to careful innovation in self-driving capabilities.

The Xmart OS is the company's pioneering intelligent space that creates a smart environment within the driving cockpit. Xpilot is the brand's autonomous data-driven solution that assists driving and looks to enable autonomy across the Xpeng range. All of this is delivered and kept up to date via over-the-air (OTA) updates.

Xpilot will likely be the aim focus of Li's time as he joins the team to develop more in the realm of autonomy and advanced driver assistance systems (ADAS). The current solution is leveraging data to control positioning, perception fusion, prediction and planning, which is enabled by the latest 3.5 revision of the complex system.

The company's groundbreaking innovations also lead the business to branch out into further areas, such as light aircraft and robotics.
******
Further insights can be found on our website or click here to receive our newsletter with a constant feed of new stories every week.
EV Magazine is dedicated to creating a global community of businesses, experts, and EV enthusiasts with comprehensive insights into automotive and the surrounding sectors.
For more EV insights check out the latest edition of EV Magazine and be sure to follow us on LinkedIn & Twitter.
You may also be interested in Sustainability Magazine and Energy Digital Magazine.
Please also check out our upcoming event - Sustainability LIVE in London on September 6-7 2023.
BizClik is a global provider of B2B digital media platforms that cover Executive Communities for CEOs, CFOs, CMOs, Sustainability Leaders, Procurement & Supply Chain Leaders, Technology & AI Leaders, Cyber Leaders, FinTech & InsurTech Leaders as well as covering industries such as Manufacturing, Mining, Energy, EV, Construction, Healthcare + Food & Drink.
BizClik – based in London, Dubai, and New York – offers services such as Content Creation, Advertising & Sponsorship Solutions, Webinars & Events.​​​​​​​