User experience design differentiates EVs in the digital era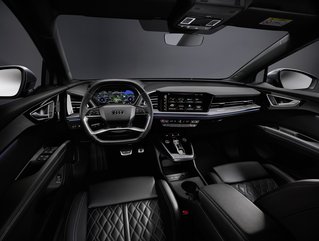 EV value can be found in the driver user experience
Sustainability is the key driver of electrification, but if the user experience isn't right, will consumers still want to adopt electric vehicles?
The primary component of the automobile has been taken, right from underneath the bonnet.
Car companies now see electrification as the future, so gone will be the days when drivers get their automotive excitement from the engine's sounds and the bellowing of smoke from the exhaust pipe.
So, what's to stop cars all becoming the same? Over the years, the engine has been one of the major differentiators of a car, as well as the performance and the design, which have eloquently morphed into similarity. Mechanical components were shared among cars and the design elements were factored into new models and their followers.
But the attention of the digital era turns to the tech that is embedded in all functions of the vehicle, which is one of the reasons why the term 'connected car' fits so well. The demand among car owners is changing because their needs have evolved as have the vehicles. The in-vehicle experience remains one factor that is shared among passenger-car owners of old and new.
Besides this, the reasoning behind such a shift also comes from factors external to the businesses that provide them.
"One of the most important motivators is sustainability. Green 'early adopters', whose main drivers are environmental, are being joined by mainstream car buyers who are influenced by the 'pull effect', or the desire to be seen helping the environment by buying an EV," says Randy Miller, EY Global Advanced Manufacturing and Mobility Leader.
By no means are these exclusive drivers of electrification, but digital adoption seems to have opened up more capabilities for drivers as they weigh up the impacts of their living costs and their personal influences on the planet.
"We are also starting to see more economic drivers of EV purchases, with select industrial buyers that can also realise strong financial savings given the cost of electricity and operational savings for certain applications,"says Miller.
"But these buyers are also hit by the 'push effect', or a fear of the financial hit they might take with ICE vehicles due to pollution and congestion charges in select markets."
Drivers get add value with EV UX design
So how can drivers get more for their money when EVs are still considered as premium or luxury vehicles? This is where UX design plays an important factor in not only making them desirable, but also in allowing their owners to reap benefits over time. After all, much of what is happening today could potentially be seen as investment into the future as consumers look to gain an early-adoption advantage—although the earliest are those who advocate the products and have been driving them for decades already.
But, from a UX perspective, this seems to be the gateway to all possibilities with an EV. It's the interface between car and driver, integrating with their digital devices, and—if you want to look at things from a premium perspective—providing users with a seamless experience to make transport more convenient.
"Like many industries, consumers demand a more personalised digital experience, and we are seeing great strides in the development of infotainment technology in EVs," Miller says. "For example, streaming services like Netflix are available in Tesla vehicles, and technology already exists which handles toll payments and parking from the car."
This, of course, feeds into some of the comments made by Sara Sloman at EV Magazine LIVE about the payment experience and how consumers want it to be simplified—steered away from the complex array of payment methods that leave them baffled at the charge point.
Connectivity will soon be the key to everything. Similar to how physical bank cards have become redundant to mobile phone payments, and maintenance is now taking place via the cloud as opposed to in the shop—for vehicle updates and digital services, businesses are looking at how to leverage connectivity to give consumers more convenience from their EVs.
In the interim, this could ultimately combat some of the issues surrounding electric car range, birthing a futuristic automotive experience in years to come.
"Over the next 12-18 months, we'll continue to see EV adoption increases," says Miller.
"More connectivity and in-vehicle experiences, more model choice, cost improvements, incentives, and improvements in battery range and charging infrastructure options will continue to improve for consumers making it easier to buy an EV. Increased adoption for commercial and fleet applications will ramp up speed with continued technology enhancements alongside new business model offerings".