T-Mobile delivers EV connectivity with renewable energy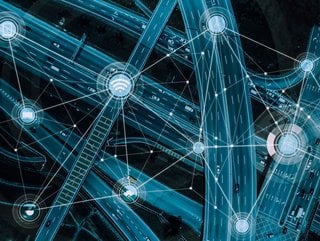 Connected cars made sustainable with 100% renewably sourced energy
As an influential business in the connected cars evolution, T-Mobile delivers solutions powered by renewable energy to enable more sustainable autonomy
COP27 last year was as crucial as any of the climate conferences we've seen over the past few years. Leaders come face-to-face with the realities of environmental, social, and governance (ESG) and formulate plans for steady progress towards a number of goals.
The primary actions are usually in aid of the climate, there are further areas to be considered, such as the social impacts of drought and flooding—a result of current climate change rates—and the finance plans to implement projects that will reduce our impacts on the planet.
The Conference of the Parties (COP) initiative allows businesses to come forward with their plans to mitigate their climate impacts and formulate programmes and partnerships that align with global targets. One of the early movers in this is T-Mobile, which developed a strategy as early as 2018; formalised ambitious plans to source 100% renewable electricity in 2021.
It was recognised last year at COP27 that the company achieved its goal, making it the first business of its kind to achieve it. The company navigated an extended demand for electricity—resulting from a historic merger—T-Mobile achieved the RE100 goal through investment and further efforts to acquire renewable energy.
The RE100 topic was discussed extensively at COP27 and among the executives talking about it were Bob Vorlicek, Vice President, Network Supply Chain at T-Mobile, Rebecca Sternberg Marttila, Managing Director at Accenture—appointed in early-2022—and Kris Timmermans, Accenture Global Management Committee Member - Supply Chain, CFO/EV and Customer Channels.
Reaching success in the drive towards renewable energy
T-Mobile is majorly invested in achieving sustainability across its global operations, which is the umbrella goal for its renewable energy achievements. Alongside this, the company shares the highlights from last year (2022), which showcases the company's overall commitments to a more environmentally and socially responsible approach to business.
Actions throughout 2022 resulted in:
Processing of 11.7 million devices to be reused, resold, or recycled
Obtaining grade A based on the 2022 CDP Climate Change assessment
Reducing overall Scope emissions by 20% and progressing towards T-Mobile's target of net zero by 2040
One of the key factors in achieving sustainability within the mobile sector is by not only reducing emissions from production, but understanding the lifecycle of products and the impacts of services on the upstream and downstream emissions. T-Mobile energy-related endeavours mark a shift in the supply chain, incorporating sustainability into the design, manufacture, distribution, and disposal of its products.
Around 94% of its wireless products are accredited with UL Solutions' ECOLOGO certification or the EPEAT Registry, to ensure compliance to certain sustainability standards.
From a data perspective, the company saw a 38% reduction in energy consumption per petabyte of data.
While it's important to understand the achievements of the company across these areas, the key targets come when looking at the areas of impact globally, such as landfill and the atmosphere. More than 150,000 lbs of waste was diverted from landfill sites throughout 2022 and overall emissions reduction was 1.68 million metric tonnes of carbon dioxide equivalent (MT CO2e) compared to 2020.
To find out more about T-Mobile's achievements in 2022, read the company's report 'Connecting with Purpose'.
Connected vehicles to enable autonomy in the EV space
Connectivity is the key to delivering services in the modern digital world. Globally e-mobility is about more than simply replacing fossil-fuel-powered cars with electric vehicles (EVs), but more connecting society to enable better equity within the digital ecosystem.
As a provider of connectivity, and tasked with delivering 5G capabilities, T-Mobile's operations are embedded in the wider transition to e-mobility and connected vehicles will play a critical role in enabling further energy benefits and reducing our overall reliance on the planet.
To achieve full autonomy, low-latency connectivity is key, and T-Mobile is developing solutions to optimise manufacturing, generate better opportunities for mobility.
******
EV Magazine is dedicated to creating a global community of businesses, experts, and EV enthusiasts with comprehensive insights into automotive and the surrounding sectors.
For more EV insights check out the latest edition of EV Magazine and be sure to follow us on LinkedIn & Twitter.
You may also be interested in Sustainability Magazine and Energy Digital Magazine.
Please also check out our upcoming event - Sustainability LIVE in London on September 6-7 2023.
BizClik is a global provider of B2B digital media platforms that cover Executive Communities for CEOs, CFOs, CMOs, Sustainability Leaders, Procurement & Supply Chain Leaders, Technology & AI Leaders, Cyber Leaders, FinTech & InsurTech Leaders as well as covering industries such as Manufacturing, Mining, Energy, EV, Construction, Healthcare + Food & Drink.
BizClik – based in London, Dubai, and New York – offers services such as Content Creation, Advertising & Sponsorship Solutions, Webinars & Events.