Renault Group awaits investment in its new EV-focused unit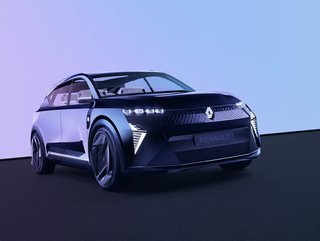 Ampere is the name that will take Renault into the future and Nissan is a prospective investor in its electric endeavour
Gaining interest from Nissan, Renault Group's latest commercial endeavour is to develop an electric vehicle (EV) arm of its business to be called Ampere
Renault Group, much like other car makers, is focusing its attention on the inevitable transition to all-electric vehicles (EVs), marking the birth of a new team dedicated to this transformation of its products.

The new entity is known as Ampere and has already begun developing its own executive team to handle proceedings with Renault Group's CEO Luca de Meo personally engaged in its pursuits.

This was announced in June 2023 and, at the time, the company reported that Ampere is a necessary segment of the business and will strive for a compound annual growth rate (CAGR) of 30% up to 2030 as the team establishes itself.

In an announcement by Reuters, Nissan is also significantly invested in the new EV unit, which will likely receive funds of US$725m (100 billion yen) to reach its goals. However, discussions were held, but no agreement was made between Renault Group and Nissan yet.

But with such a high prospective value, Nissan is likely to share the same drive for the unit's development as both organisations expect this to be in the billions—€8 - €10bn to be exact.
The investment by Nissan hinges on this potential gain with a limit set of 15% investment. A Nissan director is also expected to join the new company, but there will be specific limitations on the management of intellectual property belonging to Nissan.
Following extensive negotiations, Nissan and Renault reached an agreement in January to revamp their long-standing alliance, which has been in place for two decades. As part of this restructuring, Renault will reduce its stake in Nissan from approximately 43% to 15%, establishing equal ownership between the two companies.
Renault's electrification initiative so far
The brand is already up there with other original equipment manufacturers in the hot seat for electrification, but Renault made its debut into the sector with the ZOE model—a compact, 100% vehicle that appeals to the small hatchback audience.
The company's E-Tech is helping keep drivers safe on the road and is perhaps the company's most advanced small car yet. With advanced driver assistance systems (ADAS) in place, the car leverages blindspot monitoring, parking assistance, and other technology-driven features to make driving simpler.
Speaking of technology, Renault is already looking to optimise the use of its EVs. The Renault Zoe features a B-mode, which allows more energy to be generated from braking. But, the real solution to increasing the customer experience is its built-in trip planner that allows drivers to take this part of driving into their own hands.
Renault CONNECT is the app that allows drivers to access the right information when they need it most, combining Renault EASY LINK multimedia capabilities with a number of tools of the MY Renault application—the gateway to the technology supporting its drivers.