Lotus' electric vehicle transformation takes a new turn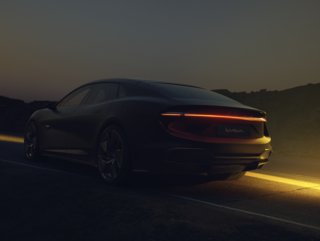 Credit: Lotus | The Lotus Emeya completes a trio of electric cars designs by the heritage OEM
Delivering new electric vehicles is part of Lotus Group's Vision80 strategy for decarbonising its heritage automotive business and supplying electric cars
A company born from racing and built on heritage, Lotus Group now showcases its greatest feat of innovation yet as it transitions to all-electric as a major component of its decarbonisation strategy.
On the 29th March 20222, the company unveiled its Lotus Eletre, which became its first ever car to be sold to a road-going consumer. With the Evija waiting in the wings as a high-performance electric supercar, it had covered two bases with a low-slung sporty vehicle, unlike anything made by the car maker, and an SUV model.
On the 7th September 2023, Lotus then showcased the final of its electric trio, the Emeya—an all-electric grand tourer designed for true drivers.
The vehicle was released in the heart of New York city as yet another unique launch event brought attention to the heritage of Lotus and a glimpse into its future as an all-electric vehicle manufacturer as it fulfils its Vision80 strategy. In 2022, the company's Group VP & Managing Director Matt Windle highlighted the strategy of the business, having gathered with the Society of Motor Manufacturers and Traders (SMMT) to discuss the future of automotive for UK original equipment manufacturers (OEMs).
Nevertheless, the latest car from Lotus showcases its vision of a GT that will serve more customers as they transition to electric.
"This is a Lotus like you have never seen before. We've built on everything Lotus has achieved so far to create a luxury performance car for the drivers, designed to inspire confidence, exhilarate with raw emotion and pure joy – connecting them to the road," said Ben Payne, Vice-President of Design, Lotus Group.
Payne was appointed as the Lotus Group's VP of Design in August 2023, succeeding Peter Horbury, who was likely a crucial part of the Emeya development. Feng Qingfeng, the CEO of Lotus Group, praised Payne for his aptitude and commitment towards the company's strategy.
"Lotus is renowned for its world-class design, and Ben has played a key role in ensuring our new lifestyle electric vehicles stay true to the heritage of the Lotus brand. We have ambitious plans to scale rapidly by 2028, and I look forward to working with Ben as we deliver new vehicles and expand into new markets," says Qingfeng.
A hyper-electric era of Lotus Group and its cars
The company is entering not only an electrified market, but is also shifting the focus for the business. Lotus has predominantly made sports cars—two-seater track-style vehicles with the purpose of pleasure over practicality and everyday use.
The latest models from the Geely-owned firm represent a shift in its approach. While it is still committed to delivering ludicrous automotive performance, its EVs follow a similar path to those of other automotive companies pushing electric cars on the market.
To follow the story of Lotus and its EV launches, check out further content HERE.
******
EV Magazine is dedicated to creating a global community of businesses, experts, and EV enthusiasts with comprehensive insights into automotive and the surrounding sectors.
For more EV insights check out the latest edition of EV Magazine and be sure to follow us on LinkedIn & Twitter.
You may also be interested in Sustainability Magazine and Energy Digital Magazine.
*********************************************
BizClik is a global provider of B2B digital media platforms that cover Executive Communities for CEOs, CFOs, CMOs, Sustainability Leaders, Procurement & Supply Chain Leaders, Technology & AI Leaders, Cyber Leaders, FinTech & InsurTech Leaders as well as covering industries such as Manufacturing, Mining, Energy, EV, Construction, Healthcare + Food & Drink.
BizClik – based in London, Dubai, and New York – offers services such as Content Creation, Advertising & Sponsorship Solutions, Webinars & Events.