IBM's report discovers how data is driving EV innovation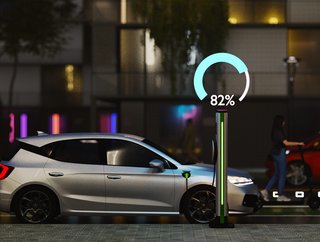 We delve into the IBM Institute for Business Value report in collaboration with GSMA Intelligence, which uncovers insights on connectivity in the automotive transition
A collaborative IBM report, driven by GSMA Intelligence, outlines data as automotive input and the results of connectivity in the EV industry transition
It's been quoted many times that 'data is the new oil', which is correct to a degree, but not in the literal sense.

As explained by IBM in a report produced with Jaguar Land Rover (JLR) and China Mobile, this is said to be true as if the telecommunications network linking electric vehicles (EVs) is the new pipeline. Connected car functions are becoming commonplace in today's society and the mobility network as a whole—this is determined partly by the number of connected vehicles sales which exceeded those of non-connected cars in 2022.

It's easy to recognise the benefits of connectivity for consumers as they experience a new level of insight into their vehicles, driving, and even home energy usage through these means of accessing data, but where does the commercial value come from?

In the report, which was handled by the IBM Institute for Business Value in collaboration with GSMA Intelligence, this is explained, touching on the implications of telecommunications for business and how companies can leverage an abundance of data from 5G, private networks, fibre, wi-fi, and edge solutions—but also where they must see the risks.

"The equation is simple: as the number of connected cars on the roads grows, so will the volume of high-stakes data being generated. The implication for telecommunications service providers, then, is clear. Their role as providers of high-bandwidth, low-latency, reliable, secure connectivity will only grow in importance," says Peter Jarich, Head of GSMA Intelligence, in the "Getting ahead of the fast and furious flood of data" report.
Why use data in connected EVs?
While data usage isn't an exclusive approach to EVs, it's certainly one that is driving a more positive experience for drivers as they battle with a number of pressures, such as learning (in the adoption process), charging their vehicles conveniently, and optimising their use of energy.

One of the major benefits they're already seeing is that EVs can naturally integrate into their lives with many insights and controls managed from their smartphones. Connectivity is the key enabler of this along with many other mobility solutions that will encourage autonomy of both energy consumption and vehicle operation in the future.

While it's important for automotive companies to leverage this as a solution to a number of challenges, they can also see further benefits from the abundance of data that comes from more and more driving.

The key things that IBM and GSMA wish for businesses to take away from its report are the key areas of untapped benefits found in connected mobility.
The risks of the mobility landscape and connectivity impacts
Before talking about profit, let's discuss safety.

As is now commonplace knowledge among original equipment manufacturers (OEMs), technology is capable of enhancing the road network for safety. Connectivity is one of the key components of automotive operations and vehicle-to-vehicle (V2V) and vehicle-to-everything (V2X) is creating links between all cars, people, and infrastructure as edge devices within national and global digital ecosystems.

Leveraging these solutions provides drivers with infotainment, journey insights, parking, advanced driver assistance systems (ADAS), and other crucial information to improve vehicle safety in motion. Other features include over-speed and hazard warnings, vehicle GPS and theft detection, and more intuitive analysis of drive systems.

But with digital comes the inherent cyber risks and with the personal data linked to cars, it was only a matter of time before this threat landscape came to the forefront. Particularly as smart charging becomes a staple across multiple countries, connectivity raises questions about data privacy through transactions between digital devices.
Commercialise opportunities for a connected EV lifecycle
There's more to be said for data and its position in automotive and the report demonstrates this in one key piece of imagery within the publication that represents the breadth of its impact.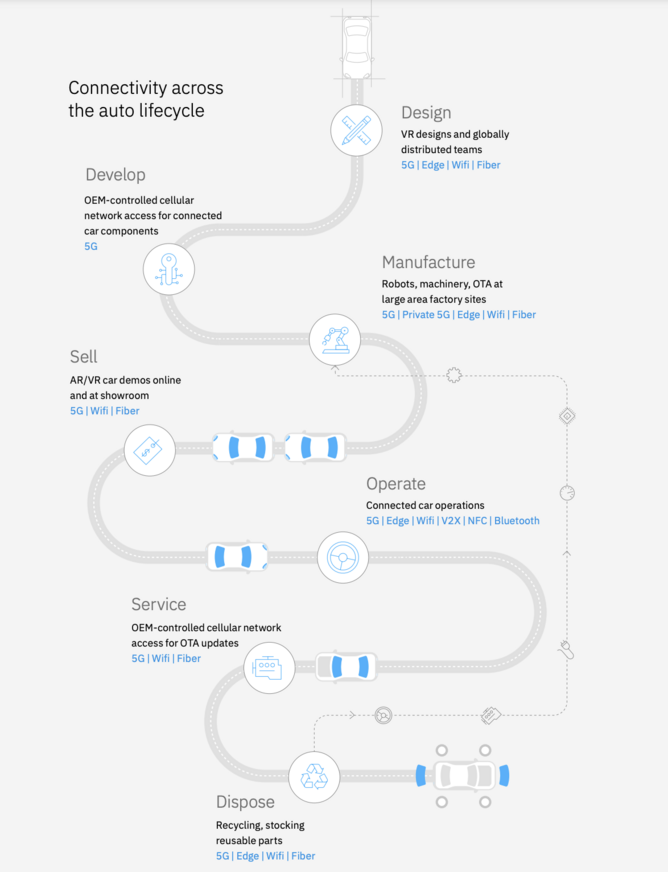 An extract from the IBM report that outlines the impact of connectivity in the automotive lifecycle. Credit | IBM
There's growing demand for artificial intelligence (AI) and data to drive analysis in all phases of the EV lifecycle, right from the design and development phase, through production and road use, all the way to end-of-life.
Of course, companies are driven by sustainability and generative AI is making headway in encouraging more use of data to inform design decisions prior to building anything, which not only reduces the waste process at the beginning, but also reduces barriers in terms of time and investment on new vehicle models. MIT Sloan expects that designers will work with generative AI, by providing detailed prompts—consisting of colours, viewpoints, body styling, and imagery—to come up with new models.
Alignment with sustainable principles is a key factor in not only reducing the emissions of an automotive design, but also managing the end-of-life impacts, of which a lot can be mitigated through access to more data in the preliminary stages.
Continuing along the trail of thought, which is intrinsically linked to a more lean manufacturing process, cars will enter and exit the production stage much faster and are already managed by private 5G networks and systems at the edge to streamline manufacturing facilities. This is why organisations are able to undergo a fast-paced transition to delivering EVs in place of their internal combustion engine (ICE) powered counterparts.
When it comes to the day-to-day functions of an EV, longevity is driven by the latest over-the-air (OTA) updates, which can be delivered to a network of cars much like a digital ecosystem of mobile phones.
While there are a number of insights compiled in the IBM report, the points to take from this crucial piece are the benefits of data in transforming a heritage industry and ensuring the climate targets are met, vehicles become ever safer, and processes are simplified.
******
EV Magazine is dedicated to creating a global community of businesses, experts, and EV enthusiasts with comprehensive insights into automotive and the surrounding sectors.
For more EV insights check out the latest edition of EV Magazine and be sure to follow us on LinkedIn & Twitter.
You may also be interested in Sustainability Magazine and Energy Digital Magazine.
Please also check out our upcoming event - Sustainability LIVE in London on September 6-7 2023.
BizClik is a global provider of B2B digital media platforms that cover Executive Communities for CEOs, CFOs, CMOs, Sustainability Leaders, Procurement & Supply Chain Leaders, Technology & AI Leaders, Cyber Leaders, FinTech & InsurTech Leaders as well as covering industries such as Manufacturing, Mining, Energy, EV, Construction, Healthcare + Food & Drink.
BizClik – based in London, Dubai, and New York – offers services such as Content Creation, Advertising & Sponsorship Solutions, Webinars & Events.