EV startup U Power sees stocks surge by 620% on Nasdaq-CM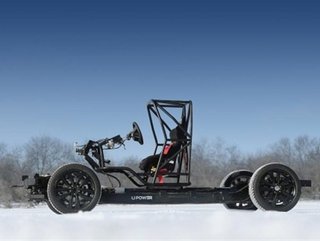 U Power Chassis by Wire
Who is Chinese Electric Vehicle (EV) startup U Power? The company debuted on the Nasdaq Capital Market (Nasdaq-CM) seeing a 620% surge in stock value
Joining the billionaires club with a net worth of US$1.3bn, Paul Li, founder and CEO of U Power saw his shares rise to as high as US$75, following the debut of Chinese Electric Vehicle (EV) startup U Power on the Nasdaq Capital Market (Nasdaq-CM) - a 620% surge in value after its initial public offering of US$6.

It has been reported that U Power raised US$14.5mn in total to develop new EVs and manufacturing battery-swapping stations. However, the success caught the eyes of regulators with trading of U Power shares halted at least 22 times.
So who is the Chinese Electric Vehicle (EV) startup U Power?

Founded in Shanghai in 2013, U Power is an innovative smart EV company dedicated to the development of cars "for every purpose and everyone," and realising Car-as-a-Service (CaaS).

Independently developing superboards and tophat's U Power is dedicated to reshaping automobile research and development (R&D).

U Power's UP Super Board is said to redefine the basic principles, technical guidance, and supply chain of automobile R&D, as well as greatly lower the entry barrier and shorten the manufacturing cycle and costs of smart EVs.

The UP Super Board is an upgraded and customisable skateboard chassis that separates the chassis and the top hat. The board not only includes the core functions required on an intelligent electric vehicle, but can also save six to 12 months of R&D time, as well as cut costs and provide shortcuts for more players to enter the field.

Facts about UP Super Board:

Development cost of a new EV could be reduced by 60%
Development time of an entire new carline could be shortened by 50%
Vehicle interior space will be increased by 30% to 60%
100% of all data will be completely open to allow clients to achieve data autonomy
"China boasts the world's most comprehensive and dynamic automobile industry chain, offering better cost advantages and flexibility for skateboard chassis and vehicles. The rich application scenarios will inspire us to deliver an industry-leading user experience. We will establish a firm foothold in China and march into the global market," said Paul Li, founder and CEO of U POWER.