EV Magazine LIVE exclusive with Paythru's Sara Sloman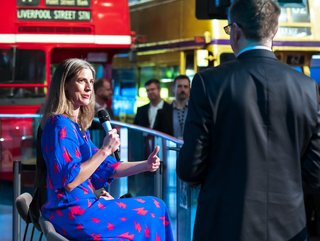 Sara Sloman, Paythru's Chief Strategy Officer, at EV Magazine LIVE
At EV Magazine LIVE, Sara Sloman took to the stage to debunk some of the questions around mobility and how digital payments factor into transport evolution
Thanks to the team at BizClik and a great cast of speakers at EV Magazine LIVE, we were able to host a positive, future-driven show with a lot of buy-in from the in-person attendees as well as the global virtual audience.
After the panel discussion 'Mobility: Electrification begins with EV infrastructure', we caught up with Sara Sloman, Chief Strategy Officer at Paythru to find out more about a relatively underrepresented field of business and customer experience in the EV sector.
While the focus on payments is evolving as cars become more capable of interacting with chargers through connected car services, the next step seems to be to simplify the experience. This means making EVs do the work and leave drivers to focus on the more important things.
Payment is critical in the daily use of an EV. Why?
The payment experience is such a critical part of the charging experience because if you can't get the payment to happen, then the charger will not function. Those signals won't be sent back and forth in the right way, so the poor consumer won't be able to access that charger. Really, the secret to it is about making sure it's flexible.
So, this means choosing a partner who can deliver you a multi-platform payment solution. I myself as an EV driver have been screaming at charge points before just to take my money. I don't need anything fancy; I just need you to give me the electricity so I can be on my way.
That means leveraging RFID, where you swipe on the physical card. It can be something like a QR code that connects you to the Internet or, from the majority of consumers, a contactless payment card is absolutely fine. We need to make sure that as a chargepoint operator, you're offering multiple payments makes it so much easier for the consumer. And a nice app, an app that's great to use.
We also allow the chargepoint operators to set that tariff. So the driver knows precisely what they're paying for.
How will payments look when cars can do this for their drivers?
I think it's incredibly exciting. This is where something like payments, which is an invisible process that you really think about, becomes very physical and very real. I remember the first time I saw a Tesla being charged and the driver simply plugged the Tesla in. Now how that works behind the scenes is the vehicle uses an individual identifier.
So the charger and the vehicle can talk to each other in a bidirectional way. They called it ISO 15118—a bidirectional data communication protocol. But why it's exciting to us as consumers is it means that you don't have to do anything, you know the car is going to consume the energy that it needs.
You know how much it's going to cost you and you will receive one bill directly or to your employer to pay for it. So there's no faffing involved. There's no apps or RFID, or anything that you need a whole swathe of in our country or across the continent. We will see this become a more streamlined process.
So, how did PayThru Mobility come about?
I'm so proud to be part of PayThru. I came across them about a year ago. They've branched out into the EV charging space and, before that, they were around for 14 years as a payment service provider.
I like to think of this as a gateway to payments: you use us to make sure that money is sent to the right place, whether that's an energy company, the charge point operator itself, or between you as consumers. It's all done seamlessly, completely behind the scenes.
We weren't born out of anything else. That's exactly what we're here to do. So we're working with global partners to work out how we can wrap in things with our payments to multimodal mobility. And that's where the excitement really comes for me as a car driver, I know that people will want to utilise different modes of travel.
What capabilities do businesses want to have by the end of this year?
I think they're looking much further ahead than that.
We have out-of-the-box solutions that can help you get off the ground as a charge point operator. But that's not what I'm looking for; I'm looking for somebody who has the same ambition as us to grow sustainably and serve the consumer.
I call us 'your invisible growth partner'. People are looking to 2030, when the end of the internal combustion engine hits, and worrying about what's going to happen to them. How are they going to charge these cars? Where are they going to charge these cars? The ideal partner, for me, is somebody that has a charge point that operates on a global scale and wants a partner that can grow with them.