EV driver demand shifts from engine to infotainment systems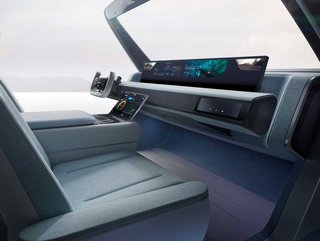 HARMAN image of an intuitive digital dashboard for an electric vehicle
In-car infotainment has evolved over the years, but EVs serve as platforms for enabling carmakers to differentiate and meet drivers' demands with ease
Although many generations get a hit of nostalgia when they think about tuning their car's radio or pulling out a folded paper map to find their way—a system of navigation that has been forever outdated—current generations and beyond won't have to endure such rigmarole.
Aside from navigation, today's in-car consoles contain all the necessary features that drivers have come to expect, such as digital screens to provide the data and vehicle updates supported by monitoring components from within and around the vehicle. But electrification births a new era of expectation, with technology becoming more capable than ever before—and it's all driven by software.
If you've been awake at all over the past couple of years, you'll know that technology is taking over. When it comes to mobility, there are inherent benefits to this beyond keeping up with the latest trends.
So, we're keen to find out what it is that customers require now that engines are out of the picture.
EV manufacturers are taking a digital approach to designing their next vehicles, examples of which can already be seen in the latest models hitting the streets with digital displays and built-in maps, connected services, and data insights.
The Head of Global Automotive at Capgemini Group & Head of Automotive at Capgemini Engineering, Alexandre Audoin, provides valuable insights into the 'next destination' of automotive.
"The automotive industry is being redefined by a software-driven transformation. Our research revealed that software-based features and services will constitute a US$640bn market by 2031, growing from about 8% of OEMs' current annual revenue (US$181bn) to 22%—more than three times in terms of value," says Audoin.
Software enables automotive to match driver demands
The days of dreaming about a tech-driven future are almost over. Soon will be the beginning of what can be called true hands-free automotive design. From aftermarket installations of hands-free telephone kits, EVs make way for all senses to be used to operate a car and its computer.
Companies like Volvo, Sony, and other auto and tech firms are heading full pelt towards sensor-driven, AI-powered solutions that can analyse the driver's behaviour and even read their lips. This is in some ways a scary concept, presenting new questions and regulations around how firms like Sony can manage cars' ability to listen to their drivers.
And much of this is driven by software. In particular, Audoin believes one of the key drivers of this growth will be the shift from internal combustion engine (ICE) powered vehicles to those that can be managed by a unified software platform.
"To capture these potential gains, automakers shouldn't be afraid to look externally. We're already seeing a wave of traditional automotive organisations partner with pure tech players in a bid to break away from outdated software architectures and deliver this new generation of connected vehicles," Audoin says.
As autonomous driving evolves, more emphasis is being placed on in-car functions, which are expected to evolve as cars become extensions of personal space.
"Infotainment systems are advancing and increasingly becoming more sophisticated. Large touch-dashboards will allow drivers to easily access and control a range of features and services," says Audoin.
Much of the experience of being in a vehicle resonates with that of the smartphone and, as cars enter the digital ecosystem, mechanical features will become less conventional over the years to come. Audoin also explains that connectivity will be a major factor in making vehicles safer and driving forward the use of data to enhance and continuously—remotely—update the user experience.
"As connectivity increases (spurred on by the advent of 5G and, soon, 6G), driving is expected to become safer and more automated," says Audoin.
"More data will be shared from the vehicle to other devices and systems, resulting in real-time traffic updates, remote diagnostics and maintenance alerts, as well as more advanced driver assistance systems (ADAS), which provide features such as lane departure warnings, automatic emergency braking, and adaptive cruise control."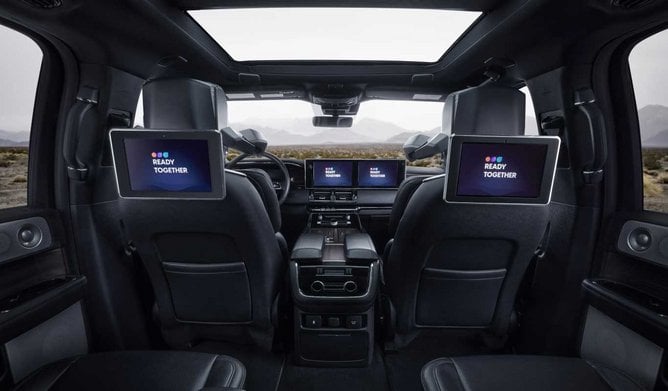 HARMAN image of technology inside an electric vehicle
Where is the competition in a software-driven industry?
Electrification breeds a whole new era of competition, which we are yet to experience to its fullest extent. As leading software developers take advantage of this opportunity, will this affect the original providers of infotainment hardware and software?
"Consumers are looking for cars that integrate with their digital lives and offer meaningful experiences while being intuitive to use and engage with. Car makers will need to differentiate themselves by delivering consumer-focused in-cabin experiences that are updated at a pace akin to that of the consumer electronics industry," says Armin Prommersberger, Senior Vice President of Product Management, HARMAN International.
"At HARMAN, we call this 'Consumer Experiences. Automotive Grade.' and it is the very area in which we specialise. Through our key consumer and technology brands, and our deep industry expertise, HARMAN is delivering road-ready automotive innovations that can be deployed and make a meaningful impact on consumers today."
Despite the current level of innovation taking place in the industry, Prommersberger still believes there is a gap to be filled and opportunities to redefine the conventional EV. Much of the future developments in the industry will be focused on technology, connectivity, and the convenience and safety of the driving experience. Electrification and digitalisation is a universal move that, if not adopted, would leave businesses in history within the next decade.
However, each carmaker can influence the industry, likely making it more volatile. "No one carmaker or supplier can solve this, nor meet the pace of innovation demanded by today's or tomorrow's consumer," Prommersberger says.
"Traditional suppliers don't have the technological expertise, while big tech falls short on delivering effective innovation that can withstand the rigour of the automotive space."

Read the full story in the March issue of EV Magazine.